NORDPLUS Nordic Languages project Play Your Way to Norway 6th partner meeting on 31 March 2021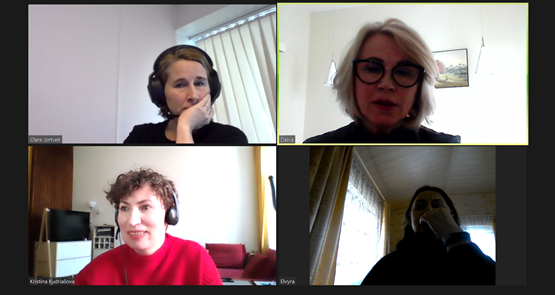 On 31 March 2021, an online partner meeting of the NORDPLUS Nordic Languages ​​project Play Your Way to Norway took place, during which partners discussed the upcoming final Online Conference "Diving into Challenges of Online Language Learning and Teaching. Benefits from OER" (https://forms.gle/Dxcu8JrFVsibjd4W9), its organization, further steps. They also reviewed the results of the Facebook campaign and the statistics of growing usage of the main product of the project – the online Norwegian language and culture learning platform https://www.playnorway.sih.lt/.
Also, the date of the virtual lesson / tour of the Norwegian city of Kristiansand has been decided – it will be organized on 19 May 19, 5 p.m. This free tour will be conducted by one of the creators of the Norwegian culture module on the Play Your Way to Norway platform, Clare Jortveit. Everyone who completes at least one module of the platform will be invited to participate in the tour, so start learning now!
The meeting was attended by Daiva Malinauskienė, Kristina Kudriašova and Elvyra Mikelevičienė, representatives of Soros International House Vilnius, and Clare Jortveit, Aftenskolen (Norway).