'Play Your Way to Norway' International Online Conference held on 29 April 2021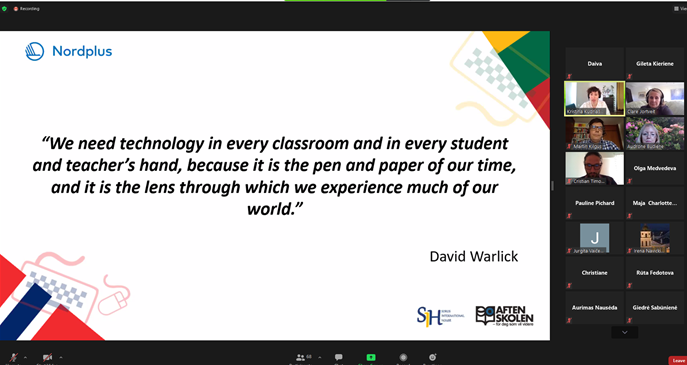 On April 29 Soros International House in collaboration with project partners from Norway organized the International Online Conference Diving into Challenges of Online Language Learning and Teaching. Benefits from OER.
The conference was attended by more than 100 participants from various European countries, most of whom work in general education schools, universities, colleges, and other formal and non-formal education institutions. During the event, speakers from Lithuania, Norway, the United States, Romania, and Germany shared open learning resources, their benefits and opportunities for teaching and learning languages.
During the conference, conference participants were introduced to the main output of the Nordplus Nordic Languages project – Play Your Way to Norway, a Norwegian language and culture learning platform, created for all those who want to learn about Norwegian culture and get the basics of Norwegian language before visiting Norway, or for those who simply wish to gain new knowledge and skills while completing fun tasks. During the conference, the participants were also introduced to the intricacies of the Norwegian language, several of which participants also discovered in both Lithuanian and German languages.
During the panel discussion, education experts discussed the growing use of technology in teaching, the challenges for teachers and learners in recent years, as the Covid-19 pandemic forced education systems around the world to switch from in-person teaching to distance learning, and shared insights on the use of technology in future education. Later, all conference participants were included in the discussion by being invited to express their views on the relationship between teacher and modern technology in the teaching process via smartphones.
Conference speakers: click here.
Conference (full video): Conference video
Presentations:
Prof. dr. Airina Volungevičienė "Open Educational Resources for Digitally Competent Educators and Organzations"
Panel discussion (Kristina Kudriašova, Audronė Būdienė, Clare Jortveit, Cristiian Timofficiu, Martin Kilgus) "Modern Technologies Will Not Replace Teachers, but Teachers Using Modern Technologies Will Replace/ Are Already Replacing Those Who Do Not Use Them"