Be-Digital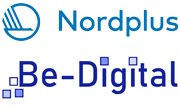 NORDPLUS / Adult
Be-Digital (2019 - 2021)
In recent years, the digital development has revolutionized our world. It has enabled countless new business models and spurred the development of new products and services. There is no doubt that digitalization improves quality of our lives. But at the same time, the speed of digitization brings new challenges. With economies, societies and governments across the globe increasingly going digital while formal training and education programs lagging seriously behind, a huge social media skills gap has opened up, especially among older employees - not social media natives.
The project aims to strengthen social media skills of citizens over 50 in Nordic / Baltic countries in order to improve their position in the labour market, increase their competitiveness and extend their productive working time until retirement and longer.
The main project activities are the following:
Performing a comparative analysis of the main trends in the social media use in the workplace across the Nordic / Baltic countries;
Developing a training programme offering a foundation of social media skills for the workplace;
Testing the developed training programme with the selected groups of learners in partner countries;
Organising a mid-term international workshop for learners in Latvia to reflect on the skills and experiences gained during the trainings on local level;
Holding partner meetings to discuss the progress of the project;
Running the final conference of the project for presenting the results.
The project Target group is citizens over 50 from Nordic / Baltic countries.
Partners:
Soros International House, LT
Association "Biedrība Eurofortis", LV
Centre of Lifelong Learning "Mímir", IS
Aftenskolen, NO
---
PROJECT NEWS
On 18 November 2022 Be Digital project has won Top Award
On 25 February 2021 Be Digital International Web Conference was held
On 7 December 2020 Be Digital online Partner meeting was held
On 12 November 2020 Be Digital Live Web Conference - a final event of Be Digital Social Media Training - was held
On 21 April 2020, Be-Digital project presented during the Board Meeting of LieDM association
On 13-14 February 2020 Be-Digital project presented in Florence, Italy
On 7-8 February 2020 Be-Digital project presented in Rumšiškės, Lithuania
On 24 January 2020 Be-Digital project presented in Birštonas, Lithuania
On 21-22 November 2019 Be-Digital project presented in Iasi, Romania
On 6 November 2019 Be-Digital project presented in Athens, Greece
On 24-25 October 2019 Be-Digital project presented in Berlin, Germany
On 3 July 2019 Be-Digital activities were presented in Pasvalys, Lithuania