Play Your Way to Norway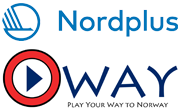 NORDPLUS / Nordic Languages
Play Your Way to Norway (2019-2021)
Baltic and Nordic countries are part of one region with a shared history. Neighbouring countries' language skills and cultural awareness are, therefore, indisputably important for citizens in the region, especially for young people in today's globalised mobile society. This project intends to take advantage of today's youth's innate enthusiasm for virtual games, their increasingly apparent shift towards the digital world and self-guided learning and seeks to strengthen intercultural communication between Lithuanian and Norwegian young people through the use of the innovative and attractive gamification method and self-directed learning approach.

Main aims:
promote Norwegian language and culture and mutual Nordic-Baltic linguistic and cultural understanding
stimulate Nordic-Baltic people's interest in the Norwegian language and culture
focus on activities that strengthen Norwegian young people's computational thinking and improve Norwegian language comprehension in young people in Lithuania and the Nordic-Baltic region

Activities:
create an online educational game promoting Norwegian language and culture
pilot the game at associated partner school(s) in Lithuania with 15-18-year-old pupils and collect feedback
organise a meeting in Norway between young people from the pilot training and Norwegian youth who created content for the game, to finalise the game
promote the game through social media and encourage people from the Nordic-Baltic region to participate
organise the final international conference in Lithuania

Main outcomes:
an online game promoting Norwegian language and culture
better mutual Lithuanian-Norwegian linguistic and cultural understanding, tolerance, and respect between youths of the two cultures
Partners:
Soros International House, LT
NO-Aftenskolen, NO
---
ONLINE CONFERENCE "Diving into Challenges of Online Language Learning and Teaching. Benefits from OER"
Agenda of the Conference: Agenda
Date: 29 April 2021
Time: 15.00-17.45 (CET)
Platform: Zoom
Language: English
Conference (full video): Conference video
Presentations:
Prof. dr. Airina Volungevičienė "Open Educational Resources for Digitally Competent Educators and Organzations"
Panel discussion (Kristina Kudriašova, Audronė Būdienė, Clare Jortveit, Cristiian Timofficiu, Martin Kilgus) "Modern Technologies Will Not Replace Teachers, but Teachers Using Modern Technologies Will Replace/ Are Already Replacing Those Who Do Not Use Them"
---
PROJECT NEWS
On 28 May 2021, the final online partner meeting of the project 'Play Your Way to Norway' took place
'Play Your Way to Norway' International Online Conference held on 29 April 2021
Information about the project 'Play Your Way to Norway' was included in the FIPLV Nordic Baltic Region newsletter
31 March 2021, an online partner meeting of the ​​project Play Your Way to Norway took place
On 27 November 2020, project Play Your Way to Norway partners met online for the third time
An online workshop Language Opens Doors – Collaboration Makes Friendship took place on September 24, 2020
On 14 May 2020, project Play Your Way to Norway partners met online for the second time
On 21 April 2020, 'Play Your Way to Norway' project presented during the Board Meeting of LieDM association
On 13-14 February 2020 'Play Your Way to Norway' project presented in Florence, Italy
On 7-8 February 2020 'Play Your Way to Norway' project presented in Rumšiškės, Lithuania
On 24 January 2020 'Play Your Way to Norway' project presented in Birštonas, Lithuania
On 21-22 November 2019 'Play Your Way to Norway' project presented in Iasi, Romania
On 6 November 2019 'Play Your Way to Norway' project presented in Athens, Greece
On 24-25 October 2019 'Play Your Way to Norway' project presented in Berlin, Germany
On 3-4 October 2019 'Play Your Way to Norway' project presented in Reykjavik, Iceland
On 19-20 September 2019, the kick-off meeting of the NORDPLUS / Nordic Languages project 'Play Your Way to Norway' took place in Vilnius, Lithuania